Basement Waterproofing, Crawl Space Encapsulation and Basement Finishing Company
Serving the Greater Areas of Philadelphia, Baltimore, and Wilmington, DE

TESTIMONIALS FROM OUR VALUED CUSTOMERS:
Basement Systems USA, Inc. is a local, family-owned wet basement waterproofing, crawl space repair, basement finishing, mold remediation, and foundation repair company with international resources through the Basement Systems dealership network.
Whether you have a wet, leaky or moldy basement, crawl space humidity, seepage, clogged sump pump, want more basement living space, or you have an inefficient dehumidifier, Basement Systems USA can help you.
We are the experts and can help you and your home's problems and there's no job too big or small that we can't help you with. To get started just contact us for a free estimate today!
---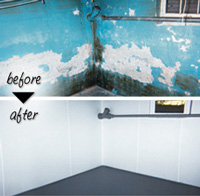 Award-Winning Basement Waterproofing, Mold Remediation, Crawl Space Repair, and Basement Remodeling
The Better Business Bureau has recognized our spotless A+ ranked reputation (in every state we serve!) and our integrity. We have also received multiple awards.
In addition, we have also received countless quality and innovation awards. No complaint has been filed against us and that's something we take great pride in.
---
Our Services:

Keep moisture and mold away from the basement of your home. We make wet basements a thing of the past!

We at Basement Systems USA specialize in providing basement encapsulation services for all types of crawl spaces.

We offer flooring and wall products which not only insulate but also beautify your otherwise boring basements.

We install the best cast-iron sump pumps and longest-lasting battery backup pumps in the industry.
The basement should be protected to avoid these problems in the future.

Basement Systems USA uses the superior Anabec system to remove and prevent mold in both basement and crawl spaces.
---
Unlike any other waterproofing contractor, Basement Systems USA has access to Basement Systems' 24 unique, patented waterproofing products that are not available elsewhere in the industry.
Contact us for a free basement estimate and inspection, in New Jersey, Delaware, Maryland, and Pennsylvania, including the Philadelphia, Wilmington, Baltimore, Newark, West Chester, Camden, New Castle, Coatesville, Downingtown, Cherry Hill, Yorklyn, Villanova, Hockessin, Thornton, Berwyn, Chadds Ford areas.
---
We are Basement Design and Finishing Experts
What our Customers Say
By Sanford B.
Mechanicsville, MD

"Our salesman Mark Loeffer was vary easy going. He scheduled the work and they showed up when he said. The job was done in a day..."

By Helen W.
Baltimore, MD

"My basement is dry and the atmosphere in the rest of the house seems must more pleasant and warmer on the coolest of days before..."
Looking to finish your basement? Or perhaps you need new and exciting ideas for remodeling the basement? You may be thinking these thoughts, but are worried about water getting into your basement and destroying your renovation.
Not anymore! Basement Systems USA installs warranted, state-of-the-art basement finishing systems that are both mold and water-resistant. Discover what makes our basement finishing system stand out from the rest and experience the transformation from basement to beautiful!
---
Privacy Statement: Your privacy is valued! Your personal information will be kept confidential and will not be redistributed or shared with any third parties.
A Free Waterproofing or Finishing Price Quote
With so many options for your home, our experts find that homeowners are best served by a personal, on-site consultation from one of our experts on staff. That's why we offer homeowners a customized system quote -- at no cost or obligation.
Your free quote includes an on-site inspection and measurement of your space. Your expert will locate the sources of any problems, answering any questions you might have as we go.
Our certified technicians and professionals waterproof and remodel basements, crawlspaces and foundations in Philadelphia, PA, Baltimore, MD Wilmington, DE, Edgewood, MD, Aberdeen, MD and Camden, NJ.
We'll explain the different options we provide for homeowners and make recommendations that are customized to your home, situation and wants.
Once everything has been explained, our expert will work with you to customize a cost quote, using our innovative software program to map out your basement and your installation.
Plus, we don't use high-pressure sales tactics to close our sales. You only buy what you want and need in your own home.
A complete cost quote will be provided in writing for you based on the system you and your representative create together during our presentation.


Receive A FREE Book
As an added courtesy, we like to mail along a copy of one of our full color basement, crawl space or foundation books, which detail everything you need to know about your below-grade space, plus information about our products and services.
Looking for a price? Get a no cost, no obligation free estimate.