Basement Egress Windows & Window Wells in Philadelphia, Baltimore, Ellicott City & Nearby
Enjoy a safer, brighter basement with our all-in-one system in Pennsylvania, Delaware, and Maryland
Beauty & function. A basement egress window allows more natural light and fresh air while providing safe emergency egress.

Building codes require that finished basement living areas have an emergency egress - an egress window large enough to allow safe exit out of the space in case of an emergency. A large window well with a step in it must also be used outside the egress window.
Here at Basement Systems USA, we are certified installers of RockWell egress window wells. In addition to providing a safe exit, our egress windows allow more natural light and fresh air into the basement to make the space feel larger and more inviting.
If you're planning on finishing your basement now or in the future, save yourself time and hassle by including egress window installation as part of your basement waterproofing project.
We are your certified egress window contractors in Baltimore and Greater Philadelphia and Baltimore. Call or click below to request your free estimate!
Before and After

Before

After

Ellicott City MD Egress Install

Customer reached out to us because they had a standard basement window that they were looking to turn in to an Egress. When we got out to the property the customer decided on keeping the original window and installing an Egress right next to it.

This project consisted of us digging down and cutting out a 48" x 68" Egress opening in the foundation. Once we had the egress opening we then installed a 48" x 60" Slider Egress Window with a 36" RockWell and Elite Cover.


Why install RockWell egress windows in Baltimore, Philadelphia, Ellicott City?
RockWell offers an attractive alternative to ugly window wells, while providing a safe, code-compliant basement egress. Click the arrows below to learn more about the features and benefits of our egress window wells.
Features of RockWell Egress Window Systems
One-piece, rigid construction
A commonly used well has been a plastic design of flat parts that snap together to form the walls and steps. A problem lies in its durability; its ability to hold back the heavy earth and water.
RockWell window wells are a one-piece, rigid construction that will not collapse from backfill or allow water to leak through the well walls. They're UV stable, rust and rot proof, and stand up to extreme temperatures.
Engineered for safety
Our egress window wells meet the IRC Egress Code Requirements, providing you and your family with a direct escape from any of the inhabited rooms in your basement.
In window wells that are deeper than 44 inches below ground level, the IRC Egress Code requires there to be steps or permanently affixed ladders to accommodate exiting the basement.
RockWell's egress window wells feature durable, built-in steps that make it easy for your family to escape from your basement in the event of an emergency. We also offer safety ladders for our Premier series window wells.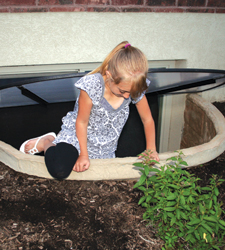 Durable window well covers
A polycarbonate safety cover keeps leaves and debris out while allowing natural sunlight and fresh outside air to enter your basement. While they are not intended for continual foot traffic, the 10mm fluted polycarbonate cover will hold up to 500 lbs. of weight and prevent family members from accidentally falling into the window well.
Beautiful stone texture
RockWell has duplicated the look of real stone so you don't have to look out of your new basement windows at a plastic-looking well. These egress window wells add curb appeal and a pleasing view from both inside and outside the house. An integral step allows easy exit (if ever needed).
Protect your Upper Darby window from leaks with the WellDuct® system
The WellDuct® system is the ideal solution for leaking windows.
If you have a leak around your basement windows, your home could be exposed to water damage and mold problems. The WellDuct® system from Basement Systems USA is the ideal solution to leaky basement windows. This system is designed to funnel water into your drainage system and sump pump, keeping your basement dry.
The WellDuct® is installed by creating a small hole just below the window and installing a drainage pipe. This serves to collect water immediately as it enters, where it is funneled to your drainage system. The area is sealed with a polymer that creates a waterproof seal. Once installed, you won't need to worry about water damage from window leaks.
Get a free quote for affordable egress window installation in Philadelphia, Ellicott City, Baltimore & surrounding areas
When you have a RockWell egress window well installed in your basement, you won't have to worry about rust or rotting. These egress windows are constructed to withstand UV rays, rain, and snow. With our professional installation and 5 year warranty, you will have peace of mind knowing your basement windows won't need replacing anytime soon.
Contact us to request an on-site consultation at no cost to you. Your basement expert will discuss all the product features and options and provide you with a free written estimate to install egress windows and any other basement waterproofing products you might need.
We are the area's experienced waterproofing contractors providing quality egress services in Baltimore, Philadelphia, Ellicott City, as well as Upper Darby, Wilmington, Lancaster, Parkville, Owings Mills, Haverford, Dundalk and many areas nearby.
Looking for a price? Get a no cost, no obligation free estimate.