The Total Basement Finishing Line of Products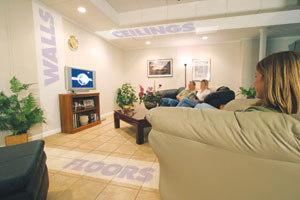 All of our finishing products are designed to be waterproof. You will be safe and so will your basement.
Our products are designed and made just for basements!
There are finishing products that are made for the upstairs living area of your home, but they will not necessarily work well in your basement.
Improvement products that are not resistant to water will not perform well in basements where moisture levels tend to be higher.
The Total Basement Finishing System is all-inclusive. We manufacture and install the finest products that look great and work the best for upgrading all areas of your basement.
Why Our Products Work So Well.
Wall paneling - Offering panels that come with or without a foam insulation backing, we install wall units that are waterproof, mold resistant, and easy to clean.
Insulation - Our foam insulation is rigid yet easy to fit around pipes and other basement obstacles. It is waterproof and mold resistant, won't pack or drop from its place, and it won't lose its resistance properties (R-value).
Decorative trim - Having our one-piece vinyl molding line your basement means you don't have to worry about mold, painting, or wood rot. And it looks great too!
Floor matts - Whether you want our plastic, inter-connected matts as the flooring itself or if you want to lay them under carpet or tile, they are durable and made to last.
Flooring - Whether you choose tile or planking styles, our flooring products look and feel just like real wood, but they won't support mold growth and they are waterproof.
Ceiling tiles - Our drop ceiling tiles have a lifetime warranty against mold growth and a 30-year, "no-sag" warranty.
Basement windows - Our vinyl windows don't rot, won't rust and never need painting. Plus, they come in all standard sizes and meet fire and building codes.
Waterproof, Attractive AND Easy To Install?
Total Basement Finishing System Benefits
Long-lasting, moisture and mold resistant, and easy-to-clean.
One of the many benefits of our finishing options is that they are designed to be a snap to install without a lot of clean up afterwards. We have entire wall systems that attach right to your basement walls and require no wall tape, joint compound or paint. That saves you a lot of time!
Finishing a basement shouldn't take a long time. Because of their special design and manufacturing, our finishing systems can be fully installed to give you a beautiful, comfortable basement in about 10 days.
Basement Experts in Baltimore, Philadelphia, West Chester, PA and Wilmington, DE That Can Do The WHOLE Job!
However many options you choose to have installed in your basement project, Basement Systems USA can complete every one of them. We make it a point to be fully knowledgeable about every one of our products. That and having extensive training in installation and knowing the environment of basements allow us to be speedy and precise in our workmanship.
Our "across the board" expertise means you don't need to hire 10 different contractors to finish your basement. All you need is us!
We provide homeowners in Baltimore, Philadelphia, Ellicott City and surrounding towns with a FREE no-obligation basement finishing estimate.
Upgrade Your Basement and Its Value.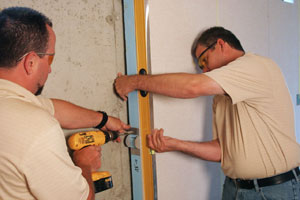 Ideal for basements, our walls are waterproof, mold resistant, and are easy to install.
Your basement is an entire floor of your house and if it's unfinished, it isn't being used to it's greatest extent. Consider it this way: your basement is about one third of your home's total space and value.
After finishing your basement with Basement Systems USA, if you ever decide to sell your home, you can expect your basement to look good and add to the selling value.
There Are Some Problems That May Spring Up in Your Remodeling Job.
Water leaks and dampness
Very little light and air ventilation
Plumbing and electrical obstacles
Low-hanging ceilings
But...
We have years of experience in fixing basements and upgrading all sorts of sub-floor units. We have encountered all sorts of problems and know how to solve them all. We can make any basement comfortable and efficient.
There Are No Limits to What You Can Do!
Additional bedroom
Adding on space to your house in order to build another bedroom can be an expensive task, but a basement bedroom will allow you to use space that is already available. Basement bedrooms are cost effective, create a quiet space, and can be used to create additional room for family members or guests.
Apartment
Studio apartments can be built in as little as 250 square feet of space. Larger basement apartments can be fully equipped with a bedroom, kitchen and bath. The additional income from a basement apartment is also an added bonus.
Play space for children
A basement can provide a dry, safe and comfortable place for the kids and all their toys. It can also lead to side income from a babysitting service or day care.
Home theater
Just imagine watching the latest movies on a big-screen, plasma TV in the comfort of your own home. You will never have to go to the cinema (or pay those ticket prices) again!
Home gym/Workout room
Avoid the crowds and monthly fees of the local gym by turning your basement into a cozy workout space right downstairs. No travel time means no excuse not to work out.
Bar
You could keep it simple and install a wet bar or go all out and put in a full bar with a sink. Parties and entertaining guests will never be the same. Add in a jukebox or satellite radio, pool table and/or a dart board for the complete neighborhood "pub feeling."
Art studio
Install a fully-functioning area that allows you the space and comfort to create; be it painting, sculptures, models, crochet work, or drawing. There can be plenty of room for hobby shelves and storage.
Laundry room
Building up an area around your washer and dryer, complete with storage areas, a folding table, a sink, and a humidifier could mean less trips to the laundromat.
An added bathroom
Putting in a shower or full tub, toilet, and a sink can erase all the morning chaos of everyone trying to get ready at once.
Looking for a price? Get a no cost, no obligation free estimate.