Get Started
Contact Us Today!
Free Estimates - Click or Call
Basement Remodeling in Philadelphia, Wilmington, Baltimore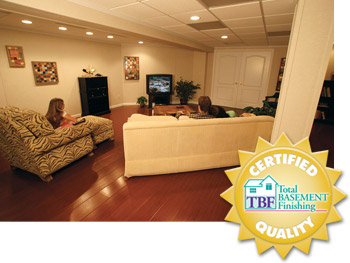 Adding Beautiful Living Space to Your Home in Bryn Mawr, Lancaster, Newark, Wilmington, DE
With the Total Basement Finishing System installed by Basement Systems USA, you can have the gorgeous additional living space in your home you've been dreaming of. We use products that come to you with a 50-year basement wall warranty, a 30-year ceiling tile warranty, and a wide variety of waterproof flooring options.
Basement Systems USA is your local Total Basement Finishing company working in Maryland, Delaware, Pennsylvania and New Jersey. Visit our Basement Finishing website and contact us today for a free Philadelphia basement finishing estimate!
We proudly work in Philadelphia, Wilmington, Baltimore, Yorklyn, Villanova, Hockessin, Thornton, Berwyn, Chadds Ford and towns nearby.
Remodeled Basement Floors, Walls, Ceilings
The Total Basement Finishing System is a total solution for basement renovation to get you that extra living space you need. Whether you're looking for durable walls, floors, ceiling, windows, lighting, electrical, etc. for your basement remodeling project, we have what you need to get you extra space using products made to resist basement moisture.
Our basement finishing system is extremely versatile and lets you do anything you want with your basement. Whether you want a man cave, an extra bedroom, home theater room, a workout room, home office, play room, we have the finishing system for you!
Free Basement Remodeling Cost Estimate
If you want to plan and get cost pricing for your remodeling project, Basement Systems USA can set up a free basement design quote at no obligation to you.
Your free basement finishing price quote includes:
A professional on-site basement inspection.
A design consultation showing you specific the options for your home.
Your basement finishing proposal -- in writing and e-mailed to you or printed.
Our full-color 88-page book: "Basement Finishing Science".
Our mission is to provide you with responsible basement finishing, at a fair price, while providing the best customer service in the contractor industry. Call or e-mail us today for your free basement finishing quote! Bring YOUR space from Basement to Beautiful in no time at all!
Looking for a price? Get a no cost, no obligation free estimate.