Basement To Beautiful™ Wall Panels
An Inorganic Solution to Insulating & Finishing Your Basement Walls
What It Does:
Basement To Beautiful™ Insulated Panels are the premiere option for creating a comfortable, energy efficient basement environment.
Designed with the same advanced SilverGlo™ insulation used with our EverLast™ Wall System, these insulated panels offer 24% more in energy savings than conventional foam options.
With its 2 ½" thick layer of foam wall insulation, combined with the wall paneling of your choice, your home will be finished with an impressive R-13 insulation blanket -- one that will never support rot or mold growth!
Technical Features
Forms An Unbroken Sheet Of Insulation On Basement Walls
Graphite Particle Infusion Enhances Insular Properties By 24%
Prepares Your Basement Walls For Finished Wall Paneling
Built-in Electrical Outlets & Chases Allow Electrical Installation
Save money and ensure lasting value with our waterproof insulation!
Get A FREE Quote!
If you're finishing your basement, our Basement To Beautiful™ panels are just what you've been looking for. Save money and ensure lasting value with our waterproof insulation! For a free, no-obligation quote to insulate your basement walls, contact us today!
We serve Philadelphia, Baltimore, Ellicott City, and many nearby areas in Pennsylvania, Delaware, and Maryland.
High-Performance, Waterproof Basement Insulation in Greater Philadelphia, Baltimore, Ellicott City and the Surrounding Areas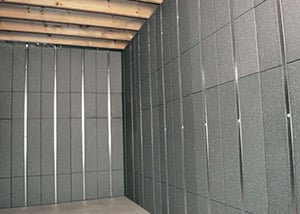 The U.S. Department of Energy has reported that the annual energy savings of insulating your basement walls can be as much as $350 or more. Insulating basement walls will also create a healthier, more comfortable place in your home.
Basement To Beautiful™ panels are specially designed with our SilverGlo™ insulation -- an expanded polystyrene foam insulation that is perfect for basement finishing. SilverGlo™ has been developed using a unique graphite infusion process that improves its R-value by an impressive 24% over other comparable foam insulation products.
When finished with a wall paneling installed over them, your basement walls will have an R-13 insulation rating, meeting and exceeding International Code Requirements.
Our basement wall insulation panels are created entirely with inorganic, waterproof materials. They've been designed without the use of wooden studs, drywall, or fiberglass -- all of which can rot and grow mold.
Basement To Beautiful™ panels are designed to attach directly to basement walls. Metal studs have been integrated with the foam for strength and stability, so your basement walls are insulated, framed and ready for finishing in one easy step! Between these studs and the foundation wall is 2" of SilverGlo™ insulation, ensuring complete insulation on your walls, with no cold spots and no wasted energy!
This unique design avoids a major design flaw present in traditional metal stud designs. Typical metal studs extend from the concrete wall to your living space. At these points, heat can easily pass through, bypassing the insulation entirely and escaping from your home.
Enjoy A Warmer, More Comfortable Home!
At Basement Systems USA, we have just what you need to save money and enjoy a beautiful new living space in your home. Our basement finishing specialists are experts in converting basements just like yours into just about any room you can imagine.
If you would like a free, no-obligation, written basement finishing quote, we're here to help you! Contact us by phone or e-mail today to schedule your free appointment!
We proudly serve Baltimore, Philadelphia, Ellicott City, Towson, Dundalk, Ellicott City, Catonsville, and many other parts of Pennsylvania, Delaware, and Maryland.
Looking for a price? Get a no cost, no obligation free estimate.